DEF|ENSE - Barrier Cream For Artists only
300ml
Protects skin - helps prevent dermatitis
Versatile for wet and dry work
Highly effective, easy to use cream that protects skin against acrylic paint, pigments, oil based materials, cutting fluids, grease, aqueous detergents and cleaning fluids.
KEEPING YOU SAFE
No one cares about the artist.
Until now.
As a master of Contemporary Art, Stuart Semple knows what it means to be in the white heat of the art world and the terrible toll it can take on the physical and psychological state of the artist.
The artist is constantly exposed to elements more piercing and harmful than any Antarctic cyclone.
And create they must. In spite of the pain. In spite of the criticism.
Now there is a material that protects the artist from the insufferable heat and crushing cold of the art world.
Def|ENSE is an effective artist's cream that protects your skin from absorbing harmful materials. It quickly dries to form a protective film when working with wet or dry paints and powders. It's brilliant if you don't like the expressive restriction of using gloves. If you are creating every day you will find yourself touching or getting splash back of paint no matter how careful you are - this will create a protective layer against cumulative exposure.
Also DEF|ENSE has been developed in conjunction with the world's greatest psychologists to protect against the mental strains of living the life less ordinary.
No critique of your work will pierce the carapace.
No doubt will enter your head because criticism will slide from your skin.
You will be stronger.
You will be better.
With DEF|ENSE, you can be the artist you need to be.
Certain colors are made with hazardous elements like cobalt, titanium, cadmium, and magnesium. If these toxins get absorbed into your skin, they can have a detrimental effect on your health that isn't always known by artists and why applying
Def|ENSE
should become a part of your daily creative routine.
As well as being medicated, it also contains conditioners and skin emollients to replenish your skin.
HOW TO USE
This is something *any artist should dip their fingers into.
Just rub some into your hands and wrists thoroughly before you start making your work and reapply during the day. At the end of the day, simply wash the cream off with soap and water.
If you manage to get some in your eyes, rinse them thoroughly with clean water.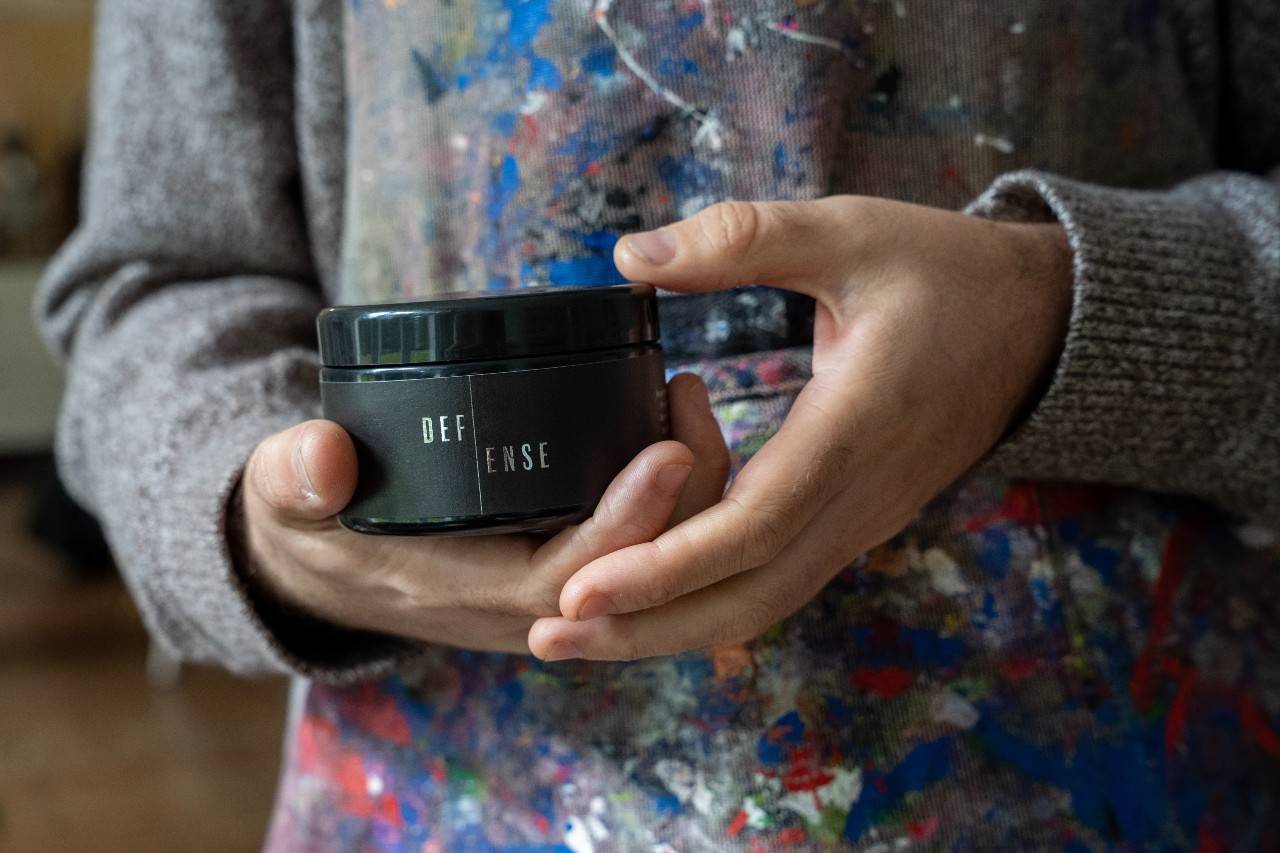 "DID YOU KNOW? Even paints that look very safe can cause damage if you use them long-term without wearing protection. That's why I never pick up a paintbrush without putting on barrier cream first!" - Stuart Semple
Ingredients
Silicon Free
Aqua, Paraffinum liquidum, Petrolatum, Palmitic Acid, Glyceryl Stearate SE, Aluminium Starch Octenylsuccinate, Phenoxyethanol, Triethanolamine, Lanolin, PPG-5 Ceteth-20, Methylparaben, Ethylparaben, Propylparaben, Acrylates/C10-30 Alkyl Acrylate Crosspolymer, Hydroxyethylcellulose, CI 17200.